Hey Violet is an American pop-rock band from Los Angeles, California, consisting of Rena Lovelis (lead vocals), Nia Lovelis (drums, percussion, backing vocals), Casey Moreta (lead guitar, backing vocals), and Iain Shipp (bass guitar, synth bass).
Formed in 2008 as Red Shadow while its members were still in middle school, the band was originally an all-female hard rock group, consisting of Julia Pierce (lead vocals, lead guitar), Miranda Miller (rhythm guitar, keyboards, backing vocals), Marianna Vartanyan (bass guitar, backing vocals), and Nia Lovelis (drums, percussion, backing vocals). In 2009, the band changed its name into Cherri Bomb, Vartanyan leaving for unknown reasons, being replaced by Rena Lovelis. In 2013, Pierce left the band and was later replaced by Casey Moreta. In 2015, the group changed their name to Hey Violet and drastically altered their sound. They later signed to Hi or Hey Records, founded by 5 Seconds of Summer, whom they supported on the Rock Out With Your Socks Tour and Sounds Live Feels Live World Tour.
Iain Shipp joined the band officially in September 2016. In August 2017, Miller announced her departure from the band via social media.
In April 2019, Shipp was remove from the band due to rape accusations.
History
2008-2009: Red Shadow
In 2008, the band was founded by retired member Julia Pierce, and it consisted of Julia, Mirranda Miller, Nia Lovelis, and Marianna Vartanyan. During this era, the band used to perform at small concerts and events, performing and singing covers, and they didn't release any EPs or studio albums. Marianna Vartanyan left the band for unknown reasons.
2009–2013: Cherri Bomb and Pierce's departure
The band changed its name into Cherri Bomb, and Rena Lovelis took the place of Vartanyan. The name Cherri Bomb originated from the book "Cherry Bomb, The Ultimate Guide to Becoming a Better Flirt, a Tougher Chick, and a Hotter Girlfriend, and to Living Life Like a Rock Star"[1] by Carrie Borzillo. On June 14, 2011, they signed to Hollywood Records ,[2] and on October 18, 2011, they released their debut EP, Stark.
The band was opening acts for rock bands, including Bush, Camp Freddy, Filter, Foo Fighters, The Smashing Pumpkins, Staind and Steel Panther.[2][3] They also played European festivals, including Oxegen in Ireland (the youngest act to appear), T in the Park in Scotland, Sonisphere and the Reading and Leeds Festivals.[4]
The band released their debut studio album, This Is The End of Control, on May 15, 2012, which charted on Billboards Top Hard Rock Albums at number 24 and Top Heatseekers at number 11.[5] They appeared on the Vans Warped Tour 2012 in July–August 2012.[6][7] In August 2012, they toured with the Welsh rock band Lostprophets.[8]
On January 23, 2013, Cherri Bomb announced on their Facebook page that they had parted ways with Pierce. When asked the reasoning behind Pierce's departure, Miller commented on her Tumblr that it was due to "creative differences", and that "we went our separate ways because we wanted to go in one direction and she wanted to go in another." However, after Pierce's departure was announced she took to her own Facebook page and clarified that she did not leave the band voluntarily. Pierce stated, "When I started Cherri Bomb five years ago, I envisioned something beautiful for this band. It's unfortunate that I'm no longer part of it. Sadly, what has happened wasn't my decision. I never imagined it ending up this way."[9]
Guitarist Casey Moreta joined the band that year on a temporary basis on the rebranded band. On March 9, 2013, Moreta was asked to join the band permanently while performing on stage at the Viper Room.[10]
2015–2018: Hey Violet and Miller's departure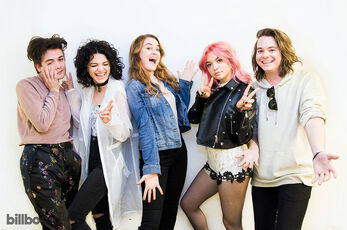 On February 18, 2015, after Pierce's departure, the remaining members announced on their official YouTube channel that they had changed their name to Hey Violet.[11] On March 19, 2015, they released their new single "This Is Why".[12] On March 24, it was confirmed that they would be signed to Hi or Hey Records, 5 Seconds of Summer's partnership of Capitol Records.[13] On June 15, Hey Violet announced that they would be releasing their second EP I Can Feel It in July. The band was the opening support act for 5 Seconds of Summer on the European and North American legs of their Rock Out With Your Socks Out Tour.[14] In both the European and USA/Canadian legs of the tour, they played free acoustic sets outside the show venues for fans.[15] The band also went on its own European headlining tour in winter 2015. It was during this tour that Rena Lovelis stopped playing the bass to focus on her vocals, and a temporary bassist was brought on. They continued to open for 5SOS on the North American leg of their 2016 Sounds Live Feels Live World Tour.[16] During this tour, new touring bassist Iain Shipp was introduced and was later made an official member of the band in September 2016. Their third EP Brand New Moves was released in August 2016, with follow-up single "Guys My Age" in September 2016. Hey Violet toured radio stations in fall 2016 and was on the lineup for a number of Jingle Ball shows promoting their EP and the single "Guys My Age".
In March 2017, "Break My Heart" was released as the second single from their second studio album, From The Outside.[17] The album was released on June 16, 2017.
On August 31, 2017, Miller announced her departure from the band via the group's social media accounts, stating that touring had become "grueling".
2019–present: Third Album and Shipp's departure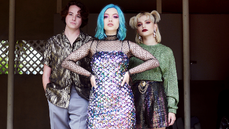 On April 3rd, 2019, the band announced that their first release following the departure of Miller titled "Better By Myself", which was later released on April 12th, 2019.[18] On April 16th, Hey Violet announced that Iain Shipp was going to leave the band due to rape accusations.[19] On May 24th, the song "Close My Eyes" was released, and on July 19th, "Queen Of The Night" was released.
Discography
Studio Albums
Extended Plays
References
Community content is available under
CC-BY-SA
unless otherwise noted.